About missionary work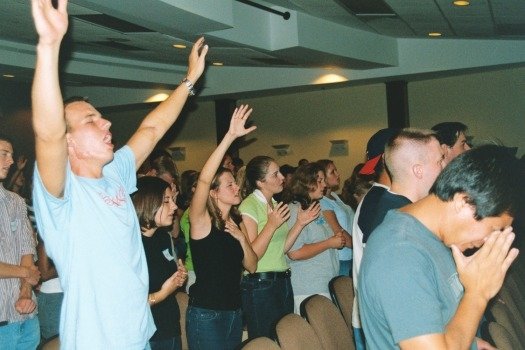 Every Christian is really a missionary, wherever he/she is at. Jesus calls us in Matthew 28:18-20, the Great Commission, to go to all the nations, make disciples, baptize them, and teach them to obey Jesus's commands. After I became a Christian in April 2000, God called me to serve Him, first as staff member with Chi Alpha Christian Fellowship (short: Chi Alpha, or XA) at the University of Missouri-Columbia the next 5 years, then as staff member with Chi Alpha at the University of California, Los Angeles (UCLA) since 2005
On the pages here, I am telling you about Chi Alpha, then I am explaining, why UCLA is such a crucial place for ministry, and what missions opportunities are available. To do effective ministry, I need your prayer and financial support - find out, how. To find out more what God already has done in my life, please look at my testimony, also see my short little histories of XA at Mizzou and at UCLA, and my newsletters. Finally, I made available my papers I wrote for long-distance courses, called Berean courses at Global University.
Missions opportunities at Chi Alpha
We meet on campus, in all sorts of settings and sizes. These gatherings are informal and deal with everything from relationships to the nature of truth. We have encounter groups (small group Bible studies), an evangelization-outreach-promotion team (UC Hope), organized prayer meetings, International Student Friendship Ministry (ISF), etc. Our weekly large-group meeting, The Element (Chi Alpha Live), is a fusion of all the ministries of Chi Alpha. Through intimate worship and relevant teaching we hope that each Tuesday night offers a spiritual reference point which enables students to be transformed by Christ's love.
In all these ministry gatherings, we provide many missions opportunities for students who are faithful to serving Christ. Below are more specific descriptions of some of these missions opportunities.
Outreaches at UCLA
UC Hope

This ministry is responsible for making our Tuesday services run smoothly, for contact tables on campus every week, for advertising and promoting Chi Alpha, for visitations, for outreaches, and for training in personal evangelism. These responsibilities are divided between three teams:

Element Crew
Outreach team
Promotions team

We want to see God change this campus. We want to see people turn their lives to follow Jesus. We want to see people set free from sin and bondage. This desire is the beginning, but action is necessary to make Chi Alpha an effective ministry. UC Hope shares the love of Jesus by serving our campus community.

International Student Friendship: ISF

ISF is a community of internationals building friendships with Americans and with each other. Statistics tell us that a huge majority of internationals never get the opportunity to enter an American home. Although the United States is considered a Christian nation, many visitors never make an American Christian friend. We don't want this to happen to the 5000 international students at UCLA, not counting family. Activities include:

Monthly activity just for ISF, for example, sight-seeing in Los Angeles or California, or experiencing a traditional holiday.
Monthly activity together with Chi Alpha Christian Fellowship, for example, game nights, movie nights, costume parties, etc.
Small group discussion group. Life topics, current world events, ethical and philosophical ideas are discussed; we will contribute a Biblical view to the discussion.
Conversation partners to learn about American culture and the American way of life by being paired up with an English speaking student.
Many times when Chi Alpha people just meet for some fun, they also will invite their international friends.
Short term missions trips
Chi Alpha groups offer short term missions trips, to serve for two weeks or so. With our Chi Alpha groups, our team is regularly going to Fond Doux, Haiti. We are visiting our Haitian leaders, Papi and Mami (Thomas and Violine Vinelon), and all our 'kids' there. See also the page with reports on our trips.
Our ministry outreaches in Haiti include:
Feeding programs for kids


Soccer outreaches


Preaching at several local and regional churches


Hut to hut prayer ministry


Discipling programs


Playing with the kids and encouraging the teens
Long term options (national office, past college)
In Chi Alpha, we are challenging students to give a year and pray about a lifetime for missions in the US and all over the world, after they graduate from their studies.
Here are a few students who followed this challenge and served Jesus after their graduation from Chi Alpha at the University of Missouri-Columbia:
Anne B.: Bible translation work with Wycliffe Ministries in Northern India; on-going


Ryan S.: Crusades and Bible distribution in Rwanda and Uganda; 6 months


Anne W.: Teaching missionary kids in Jordan; 1 year; currently (since April 2008): work with abused girls and horses in India; on-going


Leah L.: Teaching Religion and English in secondary school with Africa Inland Mission in Kenya; 8 months; currently (since 2008): journalist for Samaritan's Purse in Boone, NC.
Some places to learn about serving opportunities is the Chi Alpha national office and Missions Summits: At the end of 2005, Chi Alpha and A/G World Missions hosted the greatest missions gathering in Chi Alpha history with over 4000 students and missionaries at The World Missions Summit (TWMS) in Louisville, KY.
At the end of 2008, there was another such gathering with almost 6000 students and missionaries attending! The World Missions Summit 2 (TWMS 2) was held in Cincinnati, OH.
At the end of 2012, the third World Missions Summit is planned for Fort Worth, TX. More information can be found on the TWMS website.