About missionary work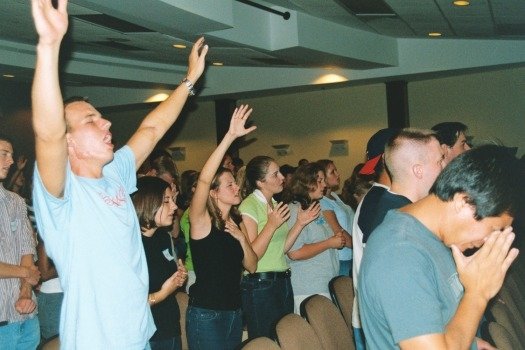 Every Christian is really a missionary, wherever he/she is at. Jesus calls us in Matthew 28:18-20, the Great Commission, to go to all the nations, make disciples, baptize them, and teach them to obey Jesus's commands. After I became a Christian in April 2000, God called me to serve Him, first as staff member with Chi Alpha Christian Fellowship (short: Chi Alpha, or XA) at the University of Missouri-Columbia the next 5 years, then as staff member with Chi Alpha at the University of California, Los Angeles (UCLA) since 2005
On the pages here, I am telling you about Chi Alpha, then I am explaining, why UCLA is such a crucial place for ministry, and what missions opportunities are available. To do effective ministry, I need your prayer and financial support - find out, how. To find out more what God already has done in my life, please look at my testimony, also see my short little histories of XA at Mizzou and at UCLA, and my newsletters. Finally, I made available my papers I wrote for long-distance courses, called Berean courses at Global University.
Why ministry at UCLA?
Students gather for a season and scatter for a lifetime. Today they learn. Tomorrow they will lead. There are 42,000 students at UCLA. All states are represented and students from 140 nations. Almost 40,000 students have not heard about Jesus Christ, His love and that He wants a personal relationship with them.
UCLA is a leading university in the US, known around the world. It is a premier American university with 31 Ph.D. programs ranked in the Top 20 of their field--this is third best in the nation. Excellence is an expectation at UCLA. Several faculty members accepted the Nobel prize and many received other awards over the years. UCLA is ranked among the Top 5 universities for total research funding. Although only 10% of applicants are accepted each year, students from every state are represented, as well as international students from 140 nations. UCLA influences the nation not only academically, but also athletically. It is #1 in NCAA championships: They earned 100 team championships by summer 2007.
Some famous UCLA alumni are:
Academy Award-winning director Francis Ford Coppola,
actress and model Heather Locklear,
astronaut Anna Lee Fisher,
track and field star Jackie Joyner-Kersee,
greatest college basketball player ever (ESPN), Kareem Abdul-Jabbar,
and baseball legend Jackie Robinson.
A lot of achievement. A lot to be proud of. UCLA students are leaders, striving for excellence in everything they do. They will shape not only the future of California, they will shape the future of the US, even the future of the world. There is no doubt about it! The question is: Will they know their Creator? Will they have a purpose in life? Will they know their Savior who loves them? Will they waste their lives in the eternal perspective or will they receive their crowns in heaven?
Statistics tell us that
95% of current college students don't have a meaningful relationship with Jesus. That is 40,000 students at UCLA.


66% of college students have not heard a clear gospel presentation, that is 28,000 students at UCLA.


Too many students who were active in a youth group fall away from God at secular universities.
All their academic accomplishments, all their athletic efforts will not be able to fulfill them, if they don't know Jesus. Chi Alpha is on the UCLA campus, because we are a relevant movement of college-age men and women earnestly following Jesus, connecting with current culture. We seek to introduce fellow collegians to an authentic relationship with Jesus Christ. Our goal is to experience the presence of God and His power in an authentic way through worship, prayer, and witness, and to live a genuine Christian life, developing real relationships with people and Jesus. We can make a difference. Chi Alpha is about transformed lives, lives used to follow Jesus.
International students are the cream of the crop of their nations, future leaders of their countries. Almost 5,000 international students are at UCLA - and this is not counting their families. They are interested in our friendship. However, 80% of international students never get invited into an American home during their four years of studies. That is 4,000 internationals at UCLA. Chi Alpha is committed to not miss the opportunity to reach a leader and influence nations. I am a US missionary, but I am also a foreign missionary right here in Southern California.