Teaching and Learning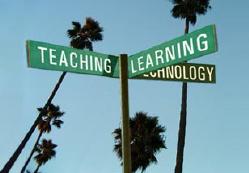 Teaching and Learning are the acts, processes, and experiences of imparting and gaining knowledge or skill. Unless you are completely isolated from your environment, teaching and learning happens all your life. Hence, I care about this topic and like to think how to effectively teach and learn, and about basic principles and how to communicate them.
In the last three years of high school I attended a class called 'Pedagogy' or 'Educational Theories'. Here I was introduced to alternative school models and Gestalt therapy. At the University of Cologne I taught one-week classes on TeX, mainly in a not-too-effective lecture style, but the format didn't allow anything else.
At the University of Missouri-Columbia I taught physics laboratories, and math classes. I also tutored for the Total Person Program of the Athletic Department. I was part of the Graduate Teaching Scholars in 1998-99. This program is not currently active as a separate entity anymore because it became part of a teaching minor at MU after I graduated. I also received the Donald K Anderson Graduate Student Teaching Award in 1999. On March 19, 2001, I was the Honorary Coach for the Big XII Women's Softball Team at the University of Missouri-Columbia, nominated by pitcher Stefanie Falk.
After my graduation from MU, I worked as a high school math teacher at Christian Fellowship School (a ministry of Christian Fellowship church) and I taught the summer physics class at Columbia College. Since my visa status changed that summer I only tutored physics privately since then. Also, leading Bible studies for Chi Alpha gave me many opportunities for teaching and learning.
While I was at MU I studied the field of Physics Education Research and I learned how much more effective classes are that are taught in an 'interactive engagement style' vs. a traditional 'lecture style'.
Besides communicating science effectively (see my journalistic articles in the newspaper 'Columbia Missourian'), I am always interested in sharing the Gospel and how to witness. What motivates me is thinking about how science and religion are connected and to teach this. Fun stuff!
Below on this current page, you will find information on the alternative school in Summerhill. Other information, such as my teaching portfolio and philosophy, as well as Physics Education Research, are on the following pages:
The alternative school in Summerhill
In high school I learned about different teaching models and philosophies. I collected information on A.S. Neill's Summerhill school here.
A.S. Neill founded an alternative school in 1921. The school is a boarding school, located in the UK, and is called Summerhill school.
Here are some very short summaries of the school's basic ideas/educational philosophy:
The happiness of the child is a paramount consideration in the child's upbringing, not society's standards of success.


Children are not required to go to lessons. Erich Fromm says: "Education is an effort without the use of force by appealing to a child's curiosity and spontaneous needs, and thus to get him or her interested in the world around. Such an education needs such ideas as freedom,---not license---democracy, and equality between children and adults."


In the Summerhill meetings, adults and children have equal votes. A.S. Neill says: "In a good home the children and the parents have equal rights. In a bad home either the children have all the rights or the parents have all the rights."


People are not inherently evil. -- I agree completely, as we are created in the image of God. Although we all are fallen, we all are also capable to accept Jesus's sacrifice and to follow Him with the Spirit's help.
You can find some more info in a 5-page speech outline . The speech was presented in a Pronunciation class:
PDF-format: summerhill-talk.pdf
The school's website gives you more information and details.
Around 1999/2000 the UK government had complaints about the school and an independent inquiry was made. The result is available online. One of my favorite quotes from that report: "Indeed, we are convinced, by the substantial evidence we saw, that several students have succeeded in academic terms at Summerhill, whereas they were previously failing academically in the state schooling environment."
Summerhill School is criticized all the time. But I still have to find a criticism with substance. People always claim that kids with freedom (but not license) could not be succesful in learning. But every single Summerhill kid in any study I can find ends up having great jobs (see, for example, Figure 2 and Figure 5 in the above report). The success of Summerhill defeats any criticism!